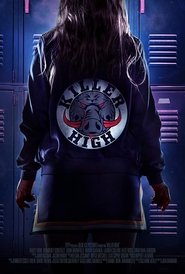 Killer High
Sabrina's perfectly planned high school reunion goes south when a monster keeps killing all the guests in this horror-comedy.
Duration: N/A
Release: 2018
Harry Grows Up
Main Tera Hero
Main Tera Hero
This love story begins with the mischievous, clever, charming, a daredevil and the HERO who falls in love with Sunaina. How can a Hero's love story be complete without a…
Husband Killers
Husband Killers
Chanel Chiu is a deadly assassin who lives by a simple code – a promise must never be broken. She learned this from her husband of ten years. Dior Mok…
Date and Switch
Date and Switch
Two guys who make a pact to lose their virginity before prom find their friendship tested when one of them comes out of the closet.
The Swap
The Swap
Based on the book by Megan Shull, The Swap follows the adventures of a Rhythmic Gymnast named Ellie with a Make-it-or-Break-it Competition, and the younger brother named Jack in a…
Chatterbox!
Chatterbox!
A young woman who works in a beauty parlor discovers that her vagina can talk, which causes her no end of trouble.
Comic Book Villains
Comic Book Villains
When word hits the street that a nearby elderly gentleman has a cache of old, rare, and very valuable mint condition comic books, rival comic book shop owners Raymond McGillicuddy…
Dadnapped
Happiness Is a Warm Blanket, Charlie Brown
Happiness Is a Warm Blanket, Charlie Brown
Linus is pushed to his limits when he learns Grandma is coming to visit and plans on ridding him of his childish security blanket.
Accidental Love
Accidental Love
A small town waitress gets a nail accidentally lodged in her head causing unpredictable behavior that leads her to Washington, DC. Sparks fly when she meets a clueless young senator…
Set It Up
Set It Up
Two overworked assistants with nasty bosses try to get their supervisors out of their hair.
The Boy Friend